Oh! I forgot that Clover took a picture of me while she was taking pictures of the Riverside portion of the Oracle (shopping mall).
So here we go, a picture of the day-time Kiwi. (:


And a little edited...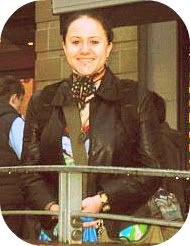 And now off to read through
The Craft of Scientific Writing
. 2 1/2 hours left here for dissertation work. Will keep comfortable comfortable comfortable!
I miss writing original fiction. I think over break I'm going to allow myself to research my next novel. It's been a while since I've written a novel outside of November. And I know that writing original and fanwork stories are completely possible in a given year, because I did it every year until second year or uni!
♥
Kiwi


Those who dwell among the beauties and mysteries of the earth are never alone or weary of life.
[Rachel Carson]
Current Mood:

Pleased.