This is my 'new year, you gonna treat a lady proper?' face. I'm holding you to it, new year. You have a lot to live up to.
I did up my hair and my mother helped me embellish it with a Christmas wrapping bow. My mother and I are a force to be reckoned with. I am funked out. I approve! (The whole outfit is, really, with the Docs and the leggings and the dress and the belt and the waistcoat, but this all you see, apologies!)
Tonight it's party time with the RKO Army Rocky Horror crew. Should be a good time. (: Hopefully next week things will calm down a little so I can meet up with Ori for Adventure Times, see Clover for some ukulele singsong times and Cake for some ridiculous fun times.
HAPPY NEW YEEEAAAAARRRRRRR rawr rawr rawr. :3 !!!!!!!!!!!!!!!!!!
Goodbye, 2010! I'm waving to you over my shoulder! See you in 2011, Livejournal and lovely flisties! :D Luna Lovegood is going out on the town.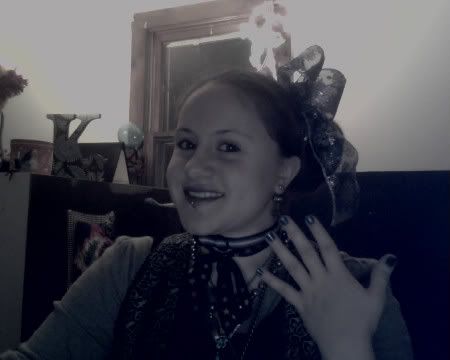 ♥
Kiwi



You'll be with me like a hand print on my heart.
Current Mood:
Naughty.